Comfort reads. We all have them, those books we turn to time and again like a worn, nubby security blanket. They are the books that fill our hands in times of stress and soothe our anxieties by wrapping us in the comfort of a familiar world. The characters live in our minds and our hearts, old friends to be revisited. These are not always the best, most well written books we have in our collections. There is just something about the writing or the characters or the plot that worms its way into our beings. These are books that will never be thrown away (blasphemy!), given away or sold to a UBS. These are keepers, but with a special distinction: they have the most creases in their spines and folds on their covers. Pages are dogeared, corners are frayed, but they do not lose value for this wear and tear. No no, quite the opposite. These imperfections are badges of honor, a sign that they are well and truly loved.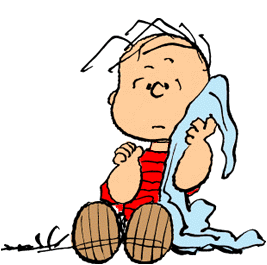 I just cracked open a book this morning that I have not read in years. I had to pick up a copy at a UBS yesterday (which is a whole other fabulous event that I will blog about!) In the first paragraph I felt myself sinking deep into the comfort of the words. This made me chuckle a bit. You see, I have realized lately that most of my comfort reads are full of action, guns, and sometimes blood. I think I may be weird. I wonder what it is about the actiony bits that pulls me in. But I digress, this is not a post about actiony bits, or dangly bits.... mmmm, manly bits. Ehem, yes. Back to comfort reads. My list is ever evolving, but the core of it includes:
- Mr. Perfect (and most of Linda Howard's "classics" like After the Night and Open Season)
- the Troubleshooter series by Suze Brockmann
- The Bride and the Beast by Teresa Medeiros
- Patricia Briggs werewolf books (Mercy's series and now Anna's book)
- Red Rose by Mary Balogh (a great little category she wrote years ago and I have since lost. NOOOO!!!!)
What are your comfort reads? Which books do you turn to over and over despite having passages memorized? Which titles, characters, plots do you crave when real life knocks you around a bit?